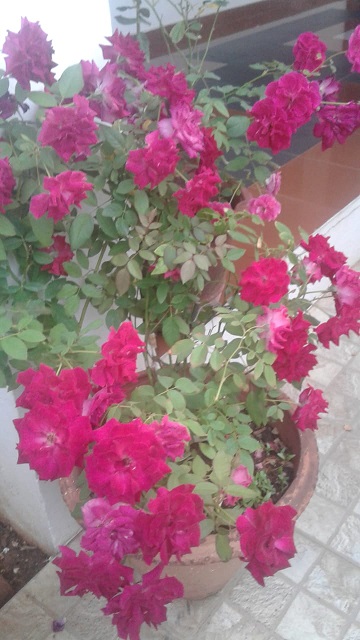 Sherly Chandran, a senior resident of Narasimhapuram, Mylapore, has been passionate about gardening ever since she was a teenager.
While growing up at Thrissur, Kerala, she would spend hours learning about fertilizers and compost from her gardener. She says, "We had banana, jackfruit and mango trees in our home. We mostly used cow dung to nourish our plants, we also had a huge compost pit to dump vegetable and fruit peel".
In 1976, after she got married, she moved to Narasimhapuram. For 12 years she stayed at an independent home there in a joint family. She says, "My father-in-law R. Rangaswami, was the make- up man for late actor Shivaji Ganesan. There wasn't much time to take care of a garden then but I always hoped that someday I would get the opportunity to nurture my own garden".
In 1989, they moved into another independent home right opposite the one they had stayed at and Sherly got to work. She got a couple of rose plants to start off with and soon there were roses all around her home in red, white and pink. So beautiful were the roses that her home was nicknamed 'The House of Flowers'.
Today, though she doesn't have as many roses as before, she takes pride in watching her Morning Glory, West Indian jasmine (vritchi poo in Thamizh), Nithya malli, gundu malli and hibiscus grow.
Her favourite however is her gundu malli creeper. She says, "I planted a small sapling about 6 years ago and the plant has grown so much since then. Now during the summer, I get enough flowers to make at least three mozhams (about 3 feet of stringed jasmine) everyday".
A few years ago, she started experimenting with growing different types of organic vegetables.
In January 2019, she planted tomatoes and a couple of months later she was pleasantly surprised with the yield. For the next 7 months, she did not buy tomatoes from stores. She says she often shared her produce with her neighbours and friends.
Lady's finger, brinjal, chillies, a small guava tree, thandu keerai, manathakali (wonder berry) keerai, drumstick keerai and microgreens like vendiyam, fennel and beans also grow in her garden at different times of the year.
Here then is yet another example of a resident growing flowers and vegetables in a small or large patch and holding up an example that others can follow.
SHERLY's GARDENING TIPS
1. The yield depends a lot on the soil mixture. Mix red sand, cowdung, neem cakes and a little bit of cocopeat, put a little water everyday and leave it for 10 days before any sapling or seed is planted. The neem cake will kill all the insects in the soil.
2. Jasmine needs to be watered everyday only when it is a sapling. When it grows a little bit, it doesn't need much water. The more the sunlight the better.
3. Cooked rice acts as a good manure as well as a pesticide. Keep it in a bottle or container for about 10 days and allow it to ferment. Keep shaking the bottle everyday. After 10 days, dilute it with water in the ratio of 1:4 and spray as a pesticide. The rice can be added to the soil at the base of the plant, it is a very good fertilizer.
4. Mix sour buttermilk with water in the ratio of 1:10, filter and spray on your plants. It is a very good fertilizer. Chillies grow very well with this mixture.
5. Take banana and onion peels, add garlic and water and boil it. Dilute it in the ratio of 1:5 and use that water on your jasmine and tomato plants for a good yield.
6. Groundnut cakes left behind after the oil is extracted should be fermented for a few days, mixed with water, diluted to the ratio 1:5 and sprayed on flowering plants to see good results.
7. Mix 1/4 glass of milk with 5 cups of water, that is a really good fertilizer.
8. Don't use sugar or salt on plants. Nattu sakkarai (jaggery powder made from unrefined sugar) however is good for plants.