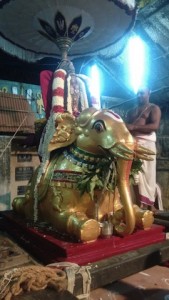 The yanai vahanam procession of Sri Srinivasa Perumal (Sri Vedantha Desikar Devasthanam) held on June 11 night was a colorful one – it was part of Vaikasi Brahmotsavam which commenced on June 6.
Yanai vahanam yesal, a special attraction was held during the procession in Chitrakulam West ward street, Mylapore.
It was a pleasing sight to see the Sri Padam Thangigal (persons who carry the heavy vahanam with deity on their shoulders) for nearly an hour non-stop without any rest carrying (and running) from one end to other end and returning in a manner in tune with the English note played by of the band artistes, the magudi played by nagaswaram vidwans.
The style of walk (nadai) performed to 'magudi' literally carrying (bending-almost sitting) with the vahanam on their shoulders was an amazing and a rare sight.
There was also a colourful fireworks display.
Close to one thousand devotees watched the yesal.
– Report and photo by D. S. Rajagopalan