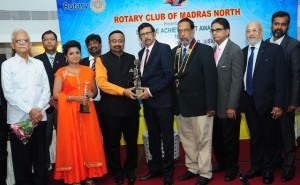 Prakash M. Swamy, senior journalist, former UN correspondent and a resident of R. A. Puram was decorated with the Rotary International's Lifetime Achievement Award on the weekend.
Dr A. Surya Prakash, chairman of Prasar Bharathi, India's public broadcasting service presented the award at an event held on June 11 by Rotary Club of Madras North.
Surya Prakash said Swamy served the community both in India and in the US with his journalism and worked hard as a core committee member of Madison Square Garden Committee that welcomed prime minister Narendra Modi to New York in 2014.
Swamy was actively involved in the BJP's election campaign in the city when elections to the Assembly took place in May.
—