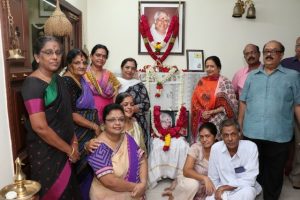 On his first death anniversary, the family of the music maestro, M S Vishwanathan got together to have a quiet and simple tribute at his residence in San Thome.
They offered flowers at his portrait and then, a few of them sang a few lines of some of his popular songs.
Family members said they wanted to keep this low profile.
There was nothing outside the MSV home, alongside the road that runs into Doomingkuppam, to the seaside, to indicate the anniversary.
A few key MSV belongings, like his favorite car remain in the house. The Fiat with the MSV registration that stands in the portico, his favorite harmonium and a veena presented by late veena maestro Balachander.