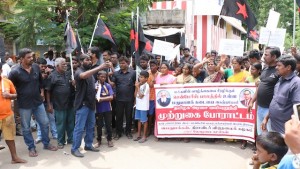 Members of the Periyary Dravida Kazhagam and residents of Visalakshi Gardens colony in R. A. Puram staged a protest in front gof the local TASMAC-managed liquor shop on Sunday at noontime, asking the state to close down the shop.
This shop is at the east end of St Marys Road, alongside the MRTS' elevated line on the other side of the station.
Residents said that large numbers of people stand outside the shop and some drink in the open and that the atmosphere polluted the residential area.
TASMAC shop No 912 is at the centre of the protest.
In the past, people have asked the state to close down liquor shops in R A Puram and Mylapore but they were not closed in the first round of closure that the new AIADMK government ordered.
Mylapore MLA Natraj also promised to push hard on this issue.