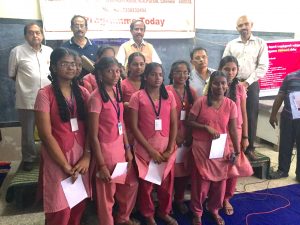 In front of a large gathering of about 100 residents, the quarterly meeting of RAPRA society was conducted at Raja Muthiah Higher Secondary School on July 17 in R A Puram.
Dr.R.Nataraj, the MLA of Mylapore constituency,  was the chief guest.
31 students who completed 10th standard were given RAPRA's annual scholarship.
RAPRA also presented a petition to the MLA containing the key grievances of residents of this R A Puram area.
The issues  include the  removal of TASMAC outlet in R. A. Puram, the need to restore the local community hall for use by residents, removal of pavement  enchroacmments and asking MTC to ply its bus on route No 5 via R.A.Puram.
The MLA appreciated the society's work for its free medical camps and its offer to be part of Friends of Police. He stressed the need for unity amongst residents and involvement of residents when they fight for a common cause. He promised to look into the issues  raised by the residents and get them redressed in due course.
Earlier, there  was a free cardiac checkup camp sponsored by Kauvery Hospital, Alwarpet and a talk by its cardiologist Dr.Amol Louis.
Report by Dr R Chandrasekaran / RAPRA elder and R A Puram resident