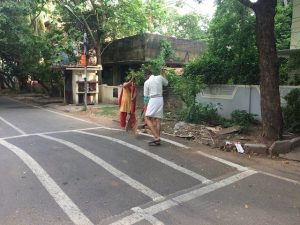 Mandavelipakkam's residents turned up in good number to do a good turn this Sunday, July 17. The Mandavelipakkam CleanUp No.2 campaign rolled out again – picking up from the community's earlier cleanup initiative.
Residents cleaned up the entire stretch of Norton 3rd Trust Cross Street, Mandavelipakkam and collected 4 large bags of plastic waste.  The recyclable waste dealers took away what they could.
Now, the community's focus will be on roping in residents to sign up for the 2-Bin 1 Bag concept.
The community team of volunteers will undertake a larger campaign across the neighbourhood to make this initiative a success.  Activists have admitted that local residents tend to dump waste in one go and rarely listen to the campaigners.
But this local band of volunteers is not giving up.
This is the link to their FB page – https://www.facebook.com/mandavelipakkam/posts/156703944751647
– Report by Ranga Tiruman. Photo sourced from community's FB page.