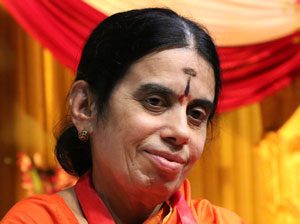 At its meeting held on July 24, 2016, the Executive Committee of The Music Academy has unanimously chosen the versatile violinist, A.Kanyakumari, for its coveted "Sangita Kalanidhi" award and for presiding over the 5oth Annual Conference of The Music Academy to be held from December 15 to January 1, 2017.
Mylapore-based Kanyakumari is a top ranking Carnatic violinist whose experience spans over 50 years as an accompanist, soloist and a teacher.
She is the first female violinist ever in the history of The Music Academy to have been chosen for the prestigious "Sangita Kalanidhi" Award, which will be conferred on her at the Sadas on January 1, 2017.
The Committee also chose the following persons for the other awards to be conferred at the goth Annual Conference and Concerts.
1. Sangita Kala Acharya : 2 awards
Rudrapatnam Brothers R.N.Thyagarajan and R.N. Tharanathan (vocalists) and Prof. K. Venkataramanan (Vocalist and music teacher)
2. T.T.K. Awards: 2 awards
Dr. Nirmala Sundararajan (Vocalist)
M.Kodilingam (Thevaram singer and teacher)
3. Musicologist Award: Dr. Rama Kausalya
The Pappa Venkataramiah Award for violinists will be given to Sikkil Baskaran.
These  awards will also be conferred at the Sadas on 1st January 2017.
4. Natya Kala Acharya Award:
The Natya Kala Acharya Award for Dance, would go to the eminent Bharatanatyam dancer and choreographer, Malavika Sarukkai. This award will be conferred at the inaugural function of the Dance Festival on January 3, 2017.