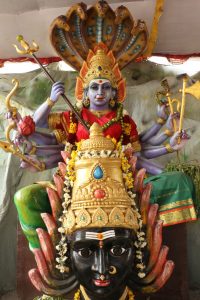 The 101st Aadi Thiruvizha is on at Sri Nagathamman Temple, Mosque Street, Mylapore till Aug 7. The festivities started yesterday (Aug 2) with a vilakku puja in which 108 women participated.
A kolam contest was held today (seen in the picture) and 60 women drew colourful kolams on the streets around the temple. Certificates and prizes for the winners of today's contest will be given on Aug 6.
Special celebrations have been planned at the temple for three days starting this Friday (Aug 5) and will include an annadanam and a special abhishekam for the deity. On Sunday evening, the deity will be taken on a veedi purappadu around the streets of Mylapore. For details contact 9840491423.