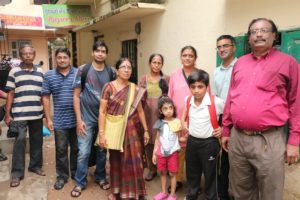 Mylapore's food joints which serve traditional snacks and tiffin always draw people who wish to explore these places for the first time.
And so, despite the drizzle and Met Department's warning of rain, a small group of people assembled at the Post office on Kutchery Road to join the Walk guide, Sridhar Venkatraman on the Mylapore Food Walk.
The Walk was curated for the annual Madras Day celebrations which are on in the city since early August.
The first stop was the famed Rayar's Mess, now located in a lane off Arundale Street. Since Sridhar chooses his timings carefully so that his colleagues have a good chance of sampling the food at less-busy hours, the tables were quickly set for his guests on Friday evening.
The group explored a few other places on this circuit though the falling rain was a dampener.