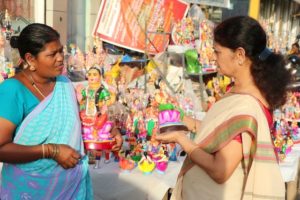 Over a dozen hawkers have set up their kolu dolls shops on North Mada Street near Sri Kapali Temple in Mylapore on the eve of the annual Navaratri festival season.
With pavement relaying civic work on in some spots, cornering hawking spots has been a challenge for these hawkers, whose number could multiply in the days to come.
New shops which have opened on this mada veedhi do not encourage the hawkers to set up the dolls outside their showrooms.
Early shoppers say the variety of dolls is limited and also their quality and design is average. "They do not make them like they used to before,"said a shopper who was window-shopping.
With short spells of rain lashing the city, the hawkers are concerned. Many local hawkers who sell seasonal produce on these streets also jump into the kolu dolls sale to raise their income.