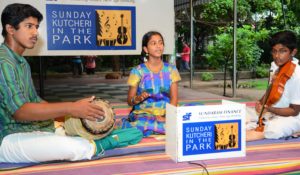 As part of monthly Sunday 'Kutcheri in the Park' organised by Sundaram Finance, S. Varshinhi, a class VI student of Shankara Mat HSS, Thiruvanmiyur presented a carnatic vocal performance this Sunday, Sep 4, at Nageswara Rao Park, Luz.
Varshinhi, who is learning music from Guru Vallinayaki, was accompanied by R. D. Shyam Ragav (disciple of Chertalai R. Sivakumar) on the violin and Indhalur R. D. Adharsh (disciple of Guruvayur Dorai) on the mridangam.
Varshinhi presented compositions that included Muthuswamy Dikshithar's maha ganapatim,
Thyagarajar's gurulekha and sobilli sapthaswara and Oothukadu Venkatasubbaiyer's maragathamani maya and aalavadhennalo.
TT Srinivasaraghavan, MD, Sundaram Finance presented certificates and mementos to the artistes. Organised on the first Sunday of every month since Feb 2006, the idea of Sunday Kutcheri in the Park is to provide opportunities to young budding talent aged below 15 years to present in front of an informal park audience amidst chirping birds and falling leaves.
Over 1000 children have presented kutcheris to date. No mikes and speakers are used at the kutcheri. A committee from Sundaram Finance conducts auditions to select the artistes.
To participate in the audition, email profile to sundaykutcheri@sundaramfinance.in or call 9445034557.