WEAVES FROM BENGAL – Every year, at Diwali time, weavers from Nadia district of Bengal bring their wares to exhibit at Chennai. The  collection will feature exclusive handloom sarees and dress materials. This year, Rang Mahal Bengal Weavers exhibition happens at New Woodlands Hotel till Oct 24. At 72-75, Dr. R. K. Salai, Mylapore.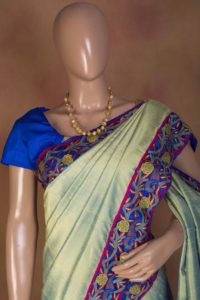 SILK SAREES – S Studio has a collection of silk sarees featuring designer Kanchipuram, soft silks, tussar, Banaras, Kalamkari, matka and more. From Rs. 2,500 onwards. Till Oct 15. At Lakshana Art Gallery, 5/13, 1st Street Abhiramapuram (Opp. Kirtilal Jewellers). Ph: 9840476171.                      
FESTIVE JEWELS – Manjushaa fashion jewellery has an exhibition going on this weekend. The expo will feature their latest collection called the Royal Splendour – a festive line of jewellery. On Oct 15 at Mahamudra (Isha Yoga), Luz Church Road, Mylapore. For details call 9840178652.