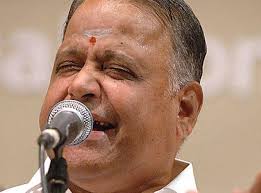 The centenary celebration of artiste O. V. Subramaniyan is being celebrated from Nov.17 to 19 at Bharatiya Vidya Bhavan, Mylapore.
There are day-long concerts on all three days of this milestone event curated by vocalist and popular bhajan singer, O S Arun.
Many members of the O. S. family who are artistes themselves are starring in the music concerts/namasankeertanams/bhajans.
The highlights – concert by senior artiste O S Thyagarajan on Nov.17, 7 pm onwards, concert by Abhishek Raghuram on Nov.18, 7 p.m. onwards: bhajans by O S Arun and party on Nov.19, 9 a.m. onwards and the Radha Madhava Kalyanam discourse by O S Sundar and party on same morning, 10.30 a.m. onwards.
All programmes are open to rasikas and presented by Madhuram Arts Foundation.
Photo featured here is of O S Thyagarajan, vocalist and son of O S Subramaniyan.