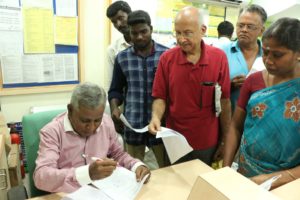 The demonetization frenzy is slowly easing out and local banks are less crowded than what they were on Nov 9. Banks are expected to receive Rs. 500 notes this week and they are hoping the situation will become better.
At Canara Bank at R. K. Mutt Road, a shamiana has been set up outside the bank to give the waiting customers a little respite from the heat. Women and seniors are given preference and a police official sends in 5 – 8 people at a time to ensure less chaos inside the bank.
A senior official at the bank says, "Average service time for each customer is only 15 minutes at our bank. We make sure they don't have to wait for long to exchange cash or make deposits. We also make sure our water cans are filled periodically in case our customers would like to drink water. Lines outside the bank are also shorter and the situation is not as chaotic as before".
At Corporation Bank at South Mada Street, Mylapore, seniors are allowed to sit inside the managers office and transact their business. Says an official there "Our bank is small and we have limited space and so a separate queue for seniors will not be feasible. We ask them to sit in the office and a bank official gets the work done for them".
Seen in the picture are bankers helping out customers at Corporation Bank.