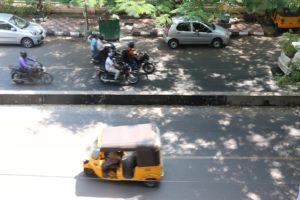 Chennai Corporation has constructed a road median on C P Ramaswamy Road in Alwarpet. The median, a masonry work, stretches from the C V Raman Road junction in the north to Spencers store in the south, for some 250 mts.
There is an opening at the Dr Ranga Road junction to allow for vehicles from either side to access the main road or cross to either sides.
It appears that this median has been constructed to attempt to discipline the heavy traffic flow, especially during peak hours in this area of Alwarpet.
However, motorists continue to flout traffic signals at the Dr Ranga Road junction.