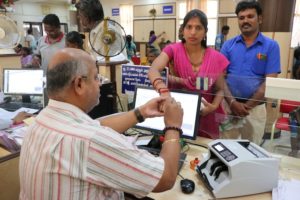 Senior citizens who need to drop off the dud currency notes at local banks can do so today, Saturday.
The government says that the step was taken to make life easy for seniors and save them the trouble of standing in long queues.
Since yesterday, bank staff have begun applying ink to the finger of every person who drops off the dud currency notes; an effort to discourage the same people from accessing the service every other day.
Photo here shows a client being 'inked' at the Indian Bank's Mylapore branch on North Mada Street.
The ATMs of some banks were also being accessed by the public on Friday but the shutters came down at other places when the cash ran out.