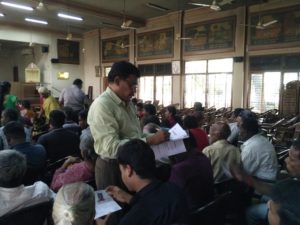 The R. K. Nagar branch of Indian Overseas Bank went the extra mile to address the currency notes deposit and withdrawal issues this past week.
Its staff hosted a mela at the Sringeri Pravachan Mandiram adjacent to the branch. Said a staffer, "We provided sufficient chairs  so that tenderers need not stand in long queues and have a hassle-free exchange."
The bank said that over 300 non-customers of the bank utilised the oppurtunity to exchange the currency.
The bank got the support of V. Vaidyanathan, Secretary, Sringeri Pravachan Mandiram for  offering the mandapam.
Photographs taken at the event are attached.
The branch's contact info – 24958103,24938398. E mail – iob0641@iob.in