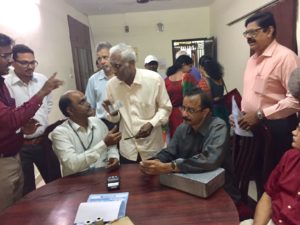 The members of R. A. Puram Residents' Association (RAPRA) in collaboration with State Bank of India, R.A.Puram branch, came out with an innovative way of dispensing cash on Nov 23.
Two bank officials from the branch used a swipe machine to dispense hundred rupee notes to more than 60 residents who had gathered there.
A member says, " A decision was made to conduct this camp the night before. We then sent out 400 emails informing the residents of this facility and also gave them a detailed list of debit cards which would be accepted by the bank. The camp was held at an R. A. Puram resident's apartment.