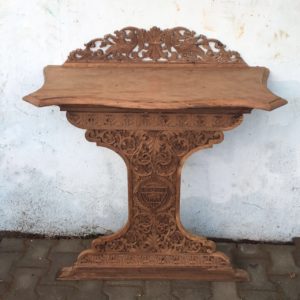 HANDCRAFTED WOODEN FURNITURE – Sri Vrikshalayaa has an exhibition of curated period/antique furniture and artefacts with intricate craftsmanship made of finest woods. Samples of Victorian, Art Deco, Chettinad furniture are on display. At Mini Sankara Hall, T. T. K. Road, Alwarpet. Till Nov 28. Ph: 9840017278.
LACE GARLANDS AND MORE  – Choose from a range of kurtis, salwars, washable lace garlands, wagh bakri tea, home made pickles and fries and saris at a show by (Marketing Organisation of Women Entrepreneurs). Till Nov 28. At C. P. Art Center, 1 Eldams Road, Alwarpet. Ph: 9380034559
LIFESTYLE FEST – Lifestyle shopping fest is a platform where women vendors are entertained to come out from their daily work and showcase their creative talent. Find hand made jewellery, hand woven kalamkari dresses, salwar suits, hand woven ikkat dresses, tussar salwar suits and lifestyle products from many vendors from all over the country. Till Nov 27. At C. P. Art Center, 1, Eldams Road, Alwarpet. Ph: 9841840055.