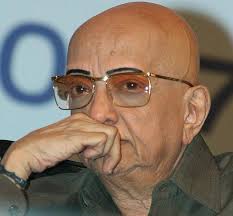 'Cho' S.Ramaswamy, actor-journalist, theatre-person and political commentator passed away at about 4 a.m. on Wednesday, December 7, at Apollo Hospital where he was being treated for his illness.
The funeral was held later in the evening. A host of personalities, from the world of cinema and theatre, politics and social visited Ramaswamy's house in MRC Nagar, R. A. Puram to pay their respects and tributes.
Those who came by included Sasikala, aide of late chief minister J. Jayalalithaa. Ramaswamy and Jayalalithaa knew each other since their days in the world of films, as actors.
Being a political activist and commentator too, Ramaswamy first was critical of Jayalalithaa when she took charge of a section of the party after MGR's demise but later, became her friendly adviser and the two remained friends.
Ramaswamy's Tamil plays, laced with satire and cold humor which touched the political and social life of the day were very popular; he gained lots of fans and supporters with his plays.
Later, his magazine 'Thuglak' which carried sharp reports, incisive analysis and ran a  popular Q&A column by its editor earned a legion of trusted and loyal readership. The magazine's annual day grew a huge audience.
Ramaswamy was close to all the leading politicians of the state and on the national stage. He was nominated to the Rajya Sabha but the BJP government and when he grew closer to the right-wing party, some fans became critical of his leanings.
Till the end, Ramaswamy was a prominent commentator on the state of the nation and the politics of the day.
He was sick for a long pertiod the past year, being treated off and on in hospital.
He was 82 and is survived by his wife, a son and a daughter.