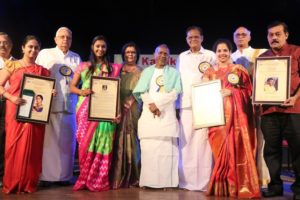 Kartik Fine Arts, a Mylapore-based sabha launched its festival of music and dance for the famed December Season this evening. On a day the cyclone named 'Nada' petered out and it rained a bit in the afternoon and the skies cleared in the evening.
Music composer and director Ilaiya Raja was the chief guest at this event held at the Narada Gana Sabha auditorium on TTK Road and all eyes were on him when he was on stage.
Awards were given to vocalist K. Gayathri and dancer Vyshnavie Sainath, and to R. Mukunthan of Delhi Muthamizh Peravai ( recognized for managing a cultural-arts body) and to vocalist Ananya Ashok ( recognised as the best, talented artiste among the young).
December Season openings do not attract many people; this was the case for the event this evening.
The launch and awards event was followed by a dance-theatre production curated and produced by Krithika Subrahmanian –  'Swappnam' featured artistes of Na Maargam Dance Company which Krithika manages.