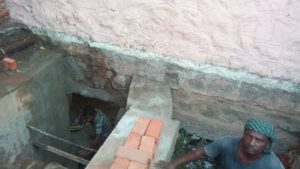 During the monsoon last year, R. K. Mutt Road, Srinivasa Avenue and T. P. Scheme Road were inundated with water. To prevent water logging in those areas this year, the residents of the area recently formed an interactive group with the help of Arappor Iyakkam. Representations were made by the members of Mandaveli Raja Street Residents Welfare Association, School View Road Association and Poonga View Association and a series of meetings with government officials were organised.
The Regional Deputy commisioner (South) visited R. K. Mutt Road, Raja Street, Kandaswamy Street and other areas in Mandaveli along with his team of Corporation officials and addressed the grievances of the citizens. His visit was followed up by a visit by M. Kanmani, area engineer of zone 173 and a detailed audit of the storm water drain network was done.
Problems in gradient, clogs in the storm water drains and reject points were identified for the entire area. The desilting of all the drains starting from the Srinivasa Avenue side of R. K. Mutt Road to the Adyar Poonga canal near T. P. Scheme Road to Raja Street Extension was initiated. Tonnes of silt has been unearthed from the canal connecting R. K. Mutt Road and has made way for rain water to flow into the Poonga canal.
Members from the welfare associations and members of Arappor Iyakkam have been monitoring the desilting work along with the corporation officials and making sure everything is on track. A day to day status update is being relayed from the corporation regarding the progress to the residents which is being verified by them.  A meet with the Chennai Rivers Restoration Trust (CRRT) chief was also initiated which ensured that the canal entry points within the Adyar Poonga were desilted and ready to receive the inflow of storm water, thereby ensuring all the water logging issues in the area were resolved before the onset of monsoons.
Reported by Ganga Sridhar