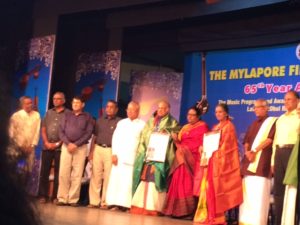 Senior vocalist Trichur V. Ramachandran went down memory lane at The Mylapore Fine Arts Club on Saturday evening where he was decorated with an award at the sabha's launch of its December Season music and dance festival.
Responding to the warm words said of him after he was given the award, Ramachandran spoke of his first concert at this sabha, in 1962, of his first meeting with his guru, G N Balasubramaniam at his house in Mylapore and the concerts he had given in the local sabhas alongside stalwart musicians.
He recalled concerts he had presented with violinist M. Chandrasekaran who was seated in the front rows at Saturday's event. ( Ramachandran and Chandrasekaran are 'Sangita Kalanidhi' awardees).
Saying that the day was Guruvayur ekadasi, Ramachandran sang a slokam from the Narayaneeyam. "I feel as if I am standing in front of then Lord in Guruvayur!, exclaimed the vocalist.
Bharatanatyam guru Malathi Thotadri was also honoured with an award.
Following the awards event, a dance-drama was presented by guru Parvathi Ravi Ghantasala.
Concerts at MFAC sabha are held through the day. Tickets are sold at the gate.