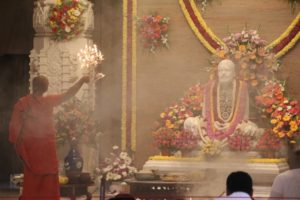 The 155th birth anniversary of Swami Vivekananda was celebrated at a few places in Mylapore on January 19.
That morning, the youths who reside and study at Sri Ramakrishna Mission Home took out a simple procession through the streets of the neighbourhood – towing a large photo of the swami.
The events at the Universal Temple on R K Mutt Road were elaborate.
Aarti was done to the image of Sri Ramakrishna here; many students and adults took part in the events. There were discourses by the Math swamijis.
Swami Vivekananda wanted the worship of Sri Ramakrishna as the hub of all the activities carried on by any centre of the Ramakrishna Order. This is followed at the Chennai-based Math, where Sri Ramakrishna is worshiped in the temple following the mantras and procedures systematized by Swami Ramakrishnananda, the founder of Sri Ramakrishna Math, Chennai.