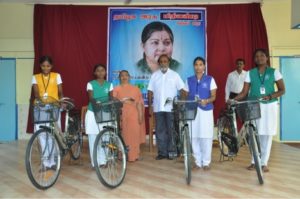 The students of std XI of St.Anthony's Girls School, Mandavelipakkam, were delighted when they received cycles from Mylapore MLA R. Nataraj at an event organised at the school premises on Jan. 18.
The MLA recollected the excitement he felt as a boy when his father gifted him a cycle. He also urged the students to educate themselves and develop their inherent talents.
The MLA also distributed prizes to the winners of various competitions at the district and state level. The principal Rev. Jasintha Victoria, teachers, staff and students attended the event.