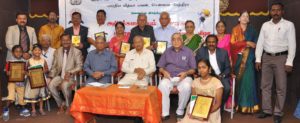 Dr. S. P. Thiyagarajan, former vice-chancellor, Madras University was the chief guest at the 28th Arivukkalanjiyam award ceremony held on Dec 18 at Bharatiya Vidya Bhavan, Mylapore. S. Jagadeesan, former judge, Madras High Court, K. N. Ramaswamy, director, Bharatiya Vidya Bhavan and Dr. P. Pandian, chairman, Vivegam Promoters Pvt. Ltd and several others participated in this event. 
Awards were given to children and experts from different walks of life. The chief guest then talked about Thirukkural and its importance and the need to inculcate its teachings in our daily life. He also appealed to the parents and children to teach Thirukkural to their children for developing their character and promoting a positive and pragmatic approach to life.
The event was organised by M. T. S. Academy, Mylapore.