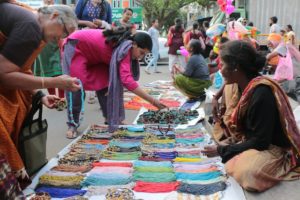 They may have started on a low note but as the evening's katta-koothu performance warmed up, the artistes from the Cheyyar region roused the audience of some 400 people who sat and watched the last show on the main stage at the annual Sundaram Finance MYLAPORE FESTIVAL on Sunday, January 8.
And when the curtains came down at 10.30 p.m. in Sannidhi Street the life of the day's events stayed on- the kolam designed by some 92 women and some men on North Mada Street for the second contest of the Fest remained as people walked down to enjoy the fantastic designs.
Food Street closed early as the snacks in many stalls ran out here but the stalls selling crafts out side the temple wall were a beehive of sales.
The Sunday morning had been a busy one at the Festival venues; even as many bhajans groups did the rounds this margazhi season, three Walks began. One took people around Sri Kapali Temple, another to a series of Lord Shiva temples and  third, showcased heritage houses in the area.
All there drew a huge response; at least 270 people took part in the three Walks.
You can enjoy snappy videos of this Fest on YouTube.
The web site – www.mylaporefestival.com provides leads to photos, videos.