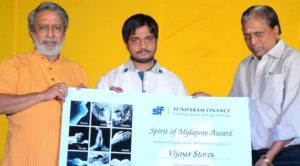 The owners of the hugely popular shop for notebooks, stationery and accessories for writing, reading and drawing, Vijaya Stores on South Mada Street, Mylapore were presented the annual ' Spirit of Mylapore' award on Sunday evening on the last day of the annual Sundaram Finance MYLAPORE FESTIVAL.
S. Ganesh, proprietor of Vijaya Stores received the award and recalled the time when his father Sundaram set up a store here as a thinnai kadai in 1947.
Sundaram Finance MD, T T Srinivasaraghavan decorated Ganesh with this award at a simple function on Sannidhi Street in the midst of the evening's performances while vice-president of the company, Sivakumar compered this function.
The award consists of a citation and a cash award.
It recognizes Mylaporeans who have made signal contributions to life in this neighbourhood. And this award is given during the Mylapore Festival, which is wholly funded by Sundaram Finance.