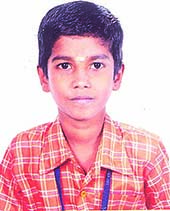 R. Tej Siddharth still has exciting memories of his trip to New Delhi – he was part of the children's day programme organised by the government and performed silambam in front of the dignitaries attending the show.
Tej has been learning silambam for the last 2 years. He learns at the government facility – Bala Bhavan  (behind Nageswara Rao Park) – and also from master Prabha near Marina Beach. He has won awards and prizes in national and state level tournaments conducted by the government. 
He was chosen to participate in the children's day celebrations after rigorous auditions – many silambam students performed in front of the commissioner and out of them, 4 persons were selected from this Bala Bhavan.
is a student of Class V at Venugopal Vidyalaya, Mandaveli and resident of Kanni Kovil Street, Alwarpet. Bala Bhavan gives training in many fields like karate, gymnastics, singing and others.
Contact Tej's mother Deepa at 9176151819.