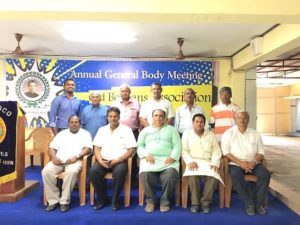 A new team has taken charge at the Old Bedeans Association, a community of the alumni of St Bede's Anglo Indian Hr. Secondary School, San Thome.
The AGM was held on the annual Alumni Meet which is held on january 26 every year at the school campus.
This is the list of Office Bearers for the term 2017 to 2021…Stafford Mantel – President, Davis Thomas – Sr. Vice President, P R Amudhan Amirtharaj – Vice President Gen-EX (those below 35 years), Deepak Raj – Secretary, Denzil D'Netto – Treasurer, Philip Rajan – Immediate Passed Out President, F. J. Vincent – Councillor, Kumaresan Venugopal – Councillor and Brian Nicholas – Councillor.
The OBA has also got its own office now in the campus, provided by the Salesians who run this school.
Here is the FB page of the OBA – https://www.facebook.com/groups/339538069549/