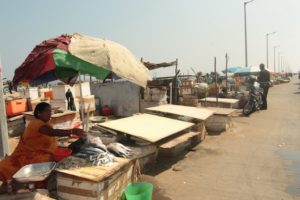 The massive oil spill in the Ennore port side has spread across the seawaters off the Marina beach. The spill was caused when one cargo ship rammed into another as they negotiated their departure and entry into the port a few days ago.
This morning, dead fish and seaweeds and waste that was washed on to the Marina beach front, all covered with thick black oil.
Fishermen who ply their trade from the kuppams off the Light House side said that they chose not to fish closer to the shore since they knew they would only catch dead fish.
Further closer to the Loop Road, home to a few dozen, thatched stalls where women sell fish most parts of the day, the atmosphere was sombre. Most stalls had not come alive since pre-dawn.
Some fish-hawking women here said people would not have come by fearing the fish on sale would be polluted.
Only a few stalls were in business and at 10 a.m. you could count the shoppers easily.
This could be the state of this busy fish market at least for the next few days.
Photo: R. Saravanan