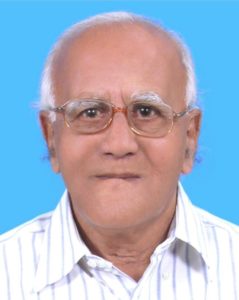 K. S. Padmanabhan passed away on Feb 4. He was 92 years old.
A resident of Mandaveli for the past few decades, he founded Tonal Services, 60 years ago, a company supplying audio equipment for popular music troupes such as those of Kunnakudi Vaidyanathan, A. V. Ramananan, Abaswaram Ramji, Subbu Arumugam for their concerts throughout India. He is also a past committee member of RasikaRanjani Sabha.
The company which is one of the oldest of its kind in Chennai then branched off to offering technical support to medical conferences. Their esteemed include government colleges like Madras , Stanley and Kipauk Mecdical Colleges, VHS,  Cancer Institute, and hospitals like Apollo Hospital, MIOT, Mediscan  to name  a few. 
As per his last wish his eyes were donated to Sankara Nethralaya and his body was donated to the anatomy department of Madras Medical College.
He is survived by his sisters, nieces and nephews. His nephew  V. C. Chandrakumar (Babu ) will continue to conduct the business at Tonal Services.
Contact his family at tonalservices@gmail.com
Gulab Bai Sarda passed away on Feb 1. Contact her family at 24341414.
S. Lakshmi, aged 82, passed away on Feb 8. She was a longtime resident of Mylapore. A popular Carnatic music teacher, she was also a lead singer for the dance drama troupe of Gopinath and Thangamani. She was the wife of A. V. Venkatachalam.
She is survived by her son, A. V. Viswanathan, daughter-in-law, Abirami, daughters Meenakshi Balaji and Varalakshmi Bhaskaran, grandchildren and great grand daughter.
Family residence is at A-7, Kumaravijayam Apartments, 187 R. H. Road, Mylapore. Phone: 9840496765, 24985609
Lakshmi Venkatachalam passed away on Feb 8. She was the wife of A. V. Venkatachalam. Contact her family at 9840496765, 24985609.