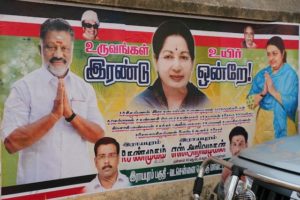 TV broadcast vans, tea and snack pushcarts, police vans and scores of police men and women, cars, people and a MGR look-alike. These and more make the scene at the gates of the official residence of O. Pannerselvam on Greenways Road, now called Pasumpon Muthuramalingam Salai at the far end of R. A.Puram.
This then is the venue for 24×7 action as the political drama in this state continues.
On Tuesday morning, as news of the Supreme Court judgment in the disproportionate assets case was pronounced, indicting Jayalalithaa and Sasikala and two others, crackers were burst and sweets shared at the CM's gate. The celebration was to cheer the court order sending Sasikala to jail; nobody chose to talk about the fact that Jayalalithaa too was indicted by the court.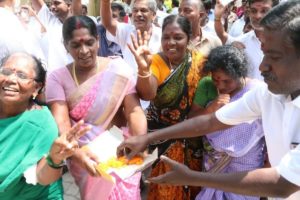 Late last night, the chief minister drove out in a convoy of some ten cars and SUVs; nobody knew where he was headed as the convoy zipped east.
In minutes though, that convoy was headed to Jayalalaithaa's samadhi; OPS was joined by Jayalalithaa's niece, Deepa and she did two things – joined politics and the AIADMK's community led by OPS and expressed her support for him.
The crowds outside OPS' residence fade after 11 p.m. but they are back again at dawn; many are AIADMK cadres. When a TV journalist sticks a mike out when some news of consequence breaks out, the more expressive of them get recorded. And the ones who do so freely are mostly women, many of them in green saris, obviously highlighting a colour that the late Jayalalithaa preferred.