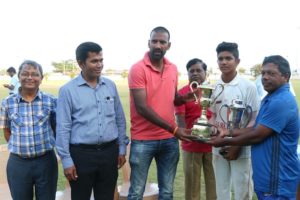 St. Bede's AI Hr Sec. School of San Thome won the C. Ramaswamy rolling trophy on Monday evening in the TN Cricket Association's annual schools cricket tourney for under-16 players. The game was played at the Marina ground.
The school's 'A' team beat the PSBB Millennium team from Gerungumbakkam by 20 runs.
That morning, having won the toss, batter Tushar Raheja bolstered the St Bede;s innings of 235 for nine in their 50 overs with his patient 62 runs while Mohammed Adnan Khan boosted the score with his 55.
Having fielded first on a hot morning, PSBB had a long road ahead when their batters walked to the pitch. It was a slow start; it got steady midway and thanks to S. Akash's brave 73 runs innings and Pranav Kumar's 59 runs, the two partnering well till the fag end, PSBB gave themselves a faint chance of scoring a sensational win.
But the task was tough ; the latter batters fell quickly and those who lasted could score only ones.
The PSBB Millenium score – 215 for 8 in 50 overs.
India player and currently IPL coach, L Balaji was the chief guest and he gave away the trophies – the rolling cup and cups for the winners and the runners-up.
Go to https://www.facebook.com/vincent.souza.96  for l.ive videos and pictures of the match.