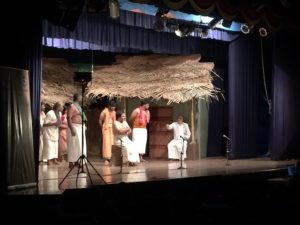 It was a house full show for 'Thaneer Thaneer', that evergreen, ever-relevant play in Thamizh by late Komal Swaminathan when it was staged on Thursday evening at Bhavans, Mylapore.
People were seated even in the aisles, the balcony was packed to the sides and late-coners had to stand and watch.
As summer unfolds and temperatures are bound to be above average, as predicted by meteorologists and the city's water supply from low storage centers could be low, many in the audience nodded to issues that Komal's dialogues echoed in the play.
The drama fest, hosted by Tamil Nadu Eyal Isai Nataka Mandram and Bhavans closed Friday evening with another popular play – Washingtontil Thirumanam.