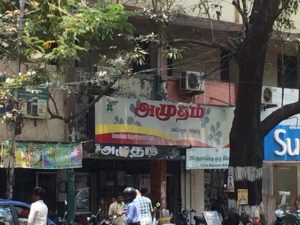 Like many Amudham stores, this one on C. P. Ramaswamy Road in Alwarpet is a popular one in the neighbourhood.
But it is infested with rats, the space is limited for the variety of groceries and foodstuff and  the air-conditioning has not been working for many weeks now.
Thankfully, it is now known that the bosses who head TN Civil Supplies Department which manages these stores have noted down the need of this store and a budget has been drawn up too.
The store will undergo full scale renovation soon.
Currently, the staff are taking efforts to keep the store clean and enable easy access to shoppers.
This store is on the ground floor of Chennai Corporation Shopping Complex.