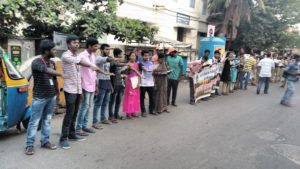 More than 300 people participated in a unique event held on April 22 to celebrate Earth Day.
A human chain was formed around the Mada Streets by volunteers, including students from Vidya Mandir, Kesari School and Ramakrishna Math. Members of the Sathyavanimuthu Nagar self-help group and vendors from Mada streets too participated in this event held to increase awareness about the need to protect the environment.
As a part of the power saving initiative by the Ministry of Power, Govt. of India, LED bulbs and tube lights were offered at concessional prices. A skit was also staged by the School of Success. The event was organised by Kapaleecharam committee.