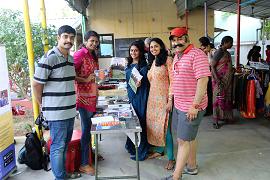 Bamboola play school held a unique flea market on Sunday, April 2. People were asked to bring their sparingly used items, sell them and contribute towards helping the septic tank cleaners in their area.
The money raised was used to buy gloves, brooms, scoops and to pay them a little extra to keep themselves safe and keep the area clean.
More than 40 stalls were put up and a thousand people walked in. People were seen shopping for old and new things, watching classical dances by children and enjoying the food.
Bamboola is located at Venkatakrishna Road, R. A. Puram. Ph: 24611779.