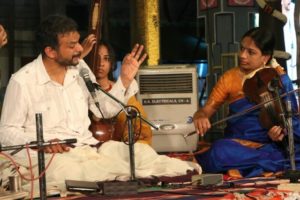 Carnatic music rasikas are thronging the Navaratri mantapam inside Sri Kapali Temple to listen to well known artistes at concerts every evening.
The past three days have featured some of the biggest artistes – Sanjay Subrahmanyan, T M Krishna, Bombay Jayashri and Abhishek Raghuram.
These are part of the vidaiarti season, post Panguni religious events, a time when the gods unwind.
The searing summer heat, that makes you sweat even past 6 p.m. has not discouraged rasikas since they get to listen to the best.
Dance recitals are also lined up.
The fest ends on April 23 with a dance recital by Radhe Jaggi.