The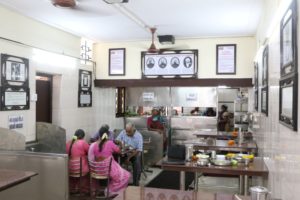 popular eatery of Triplicane, Bharathi Mess, has now found a spot in Mylapore. The restaurant has been open on Ponnambala Vadhiyar Street (south side) since March. The original one in Triplicane was started in 2012 by two brothers S. Kannan and S. Saravanan.
It is a small space. Most of the tables are tall where customers can eat standing up. Two tables are provided with chairs where people can sit to enjoy their meal.
The walls are decorated with pictures of Bharathiyar and tidbits of information about him.
There is a board announcing that no ajinomoto, dalda and baking salt are used while preparing the food. The menu has some interesting items – ragi idiyappam is a popular tiffin as is ulutham kanji (urad dhal kanji). Whole wheat noodles are also offered to customers at dinner time. Meals for lunch come with a serving of mappillai samba rice and kambu kali.
The mess stocks books by and about the poet and these are sold at discount prices. There is also a shelf where patrons can bring their used books and leave them for others to pick up.
Breakfast is the popular meal of the day. If you are going on weekends or holidays, be prepared for a long wait.
For details contact 24670519.