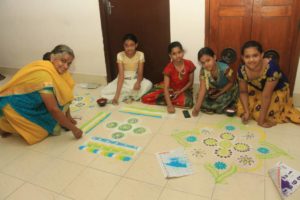 Dr. Gayathri Sankaranarayanan, the 'kolam lady' of Mylapore recently conducted a summer camp for children at her residence at C. V. Raman Road, Alwarpet.
The camp was not only about dots and lines. Bhajans and Bharatiyar songs were there too. Special techniques, poo kolams and the traditional puli kolam were covered at this six day camp.
One more session will be held next week. For details contact her at 9840118711.