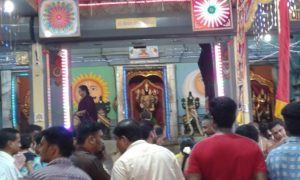 Sri Kothanda Ramaswamy Udaiyavar Devasthanam temple which is run by the Bashyakara Religious Trust, celebrated Sri Ramanujar's 1000th birth anniversary on May 1.
The ceremonies have been going on from April 22. This is the 157th year the temple is celebrating Sri Ramanujar's birth anniversary.
On May 1, the priests performed poojas, abishekams and alankaras for Sri Ramanujar in the morning.
Sri Ramanujar is a well-known saint-philosopher.
The poojas started at 10 am and went on upto 1:45 p.m. Prasadams were given to all those who attended the ceremony. Prasadam included fruit salad, sweet pongal, tamarind rice, sambar rice and curd rice.
Many people from the locality attended the ceremony.
A Ramanujar vaialli sevai was scheduled at 6p.m and a thiruveethi purappadu and then a saatrumurai utsavam.
On May 2, Ramanujar gandhapodi utsavam is set to take place, which will signify the end of this festival, said the secretary of the Bashyakara Trust.
This temple is at No. 68, Beemanna Mudali 2nd Street, Alwarpet, Chennai – 600008, which is located off D'Silva Road.
Photo and report by Ananth Ram/ Journalism Trainee