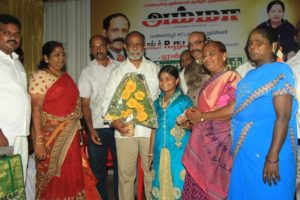 Mylapore's MLA, R. Nataraj who is from the AIADMK party celebrated his one year in office and as representative of this constituency with a public indoor meeting held this morning in Alwarpet.
Hosted by his party unit and organized by the AIADMK cadres, the meeting was at Chennai Corporation Community Hall, C. P. Ramaswamy Road, Alwarpet.
Cadres, well-wishers and residents took turns to speak on the stage and to greet the MLA.
While some praised the MLA for his service and others highlighted the positive outcome of his involvement in local issues, some others placed demands seeking action on local problems and raised issues that need the MLA's attention now.
The MLA has an office in the neighboring campus here and this is manned by a team. Nataraj is also available often in the office in the mornings.