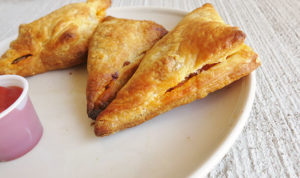 There are two branches of Senthil Softy Zone – on Kutchery Road and on P. S. Sivaswami Road. These are popular hangout places for school and college students, who like a tasty snack at pocket friendly prices. Now, a third branch has been opened on North Mada Street.
The eatery was started by P. Muralidharan in 1987. In those days, the shop sold soft drinks, milk shakes, rose milks and so on. When bakeries started popping up in the city, Muralidharan decided to get into that business, in 1998.
While the bakeries around him were offering mainly non-vegetarian puffs like egg and chicken, Muralidharan decided to offer vegetarian variants of the popular snack.
Variety has been the motto of the eatery –  three types of samosas and rolls, 23 types of vegetarian puffs and more than 50 types of sandwiches are found on the menu here.
The main outlet on Kutchery Road also has fresh juices. The central kitchen is located here, where the food items are prepared and distributed to the three outlets. 'All our kitchen equipment is top of the line. They are all imported from other countries', says manager Madhan.
For more details contact 9940273634.