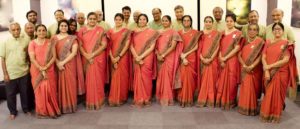 Madras Youth Choir (MYC), which has been conducting classes at Children's Garden School, Mylapore for more than two decades, has been invited to perform at 'The 2017 Serenade – Washington DC Choral Festival' celebrating John. F. Kennedy's 100th birthday and the Peace Corps.
The event will be held from June 27 to July 3 at historic venues at Washington D. C., Virginia and Maryland, U. S. A.
The festival will feature 18 choirs representing 14 countries. The mass choir finale concert with choir singers from all groups will be held on July 3 and will be conducted by Joshua Habermann, director of Dallas Symphony.
The choir has also been given the opportunity to compose a piece to be premiered at the festival. The medley of seven songs in different Indian languages has been drawn from the works of poet Subramania Bharathi, Martin Luther King, Indian folk tradition and M. B. Srinivasan, the founder of MYC.
Seen in the picture is the group going to the festival.