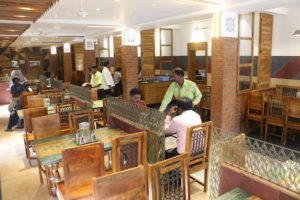 The Namma Veedu Vasanta Bhavan on South Mada Street, Mylapore has undergone a complete transformation. The building has been redesigned with an eye to traditional looks and design and is now open under the name VB Heritage.
This branch of the restaurant chain has been around for more than 20 years. "It was time to redecorate the place and Swarna Ravi, who is the wife of proprietor Ravi, was keen to get back to the roots and culture of Mylapore', says media liaison Shaktivel.
Wooden chairs and tables with wrought iron work set inside cosy spaces which afford privacy, tiled floors and designs on the walls and stone pillars paved with bricks – gives this food place a new look. 'We were very particular about the designs. Some of the tiles had to be brought from places like Jaipur and we used skilled craftsman to do the wood work', says Shaktivel.
Lots of traditional south Indian food like kambu koozh, panakam have been introduced in the menu.
VB Heritage is located at 41, South Mada Street, Mylapore. The restaurant opens at 6 a.m. for breakfast and is open till 10 p.m. Ph: 24957666.