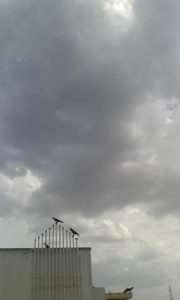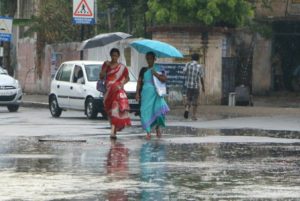 A little after 2.30 p.m. today afternoon, it started raining in the Mylapore area. At Mandavelipakkam, auto drivers were seen covering up their auto meters with plastic sheets and children were seen jumping in the little puddles of water that formed quickly.
At Luz Avenue, Mylapore, women (picture on the right) quickly opened their umbrellas and took long strides to avoid the water on the road.
According to weather reports, Chennai is expected to get good rains for atleast two out of the next five days. The picture seen on the left was taken from the terrace of an apartment complex at Mandavelipakkam at 2 p.m., just when the grey clouds started moving in.