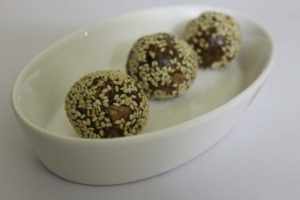 Millet Maagic Meal, which has been providing millet based meals for more than a year now, has added dessert and beverages to their menu.
Choose from multi millet laddu made from four different kinds of millet grain flour and nuts (seen in the picture), the moong dhal laddu and the dry fruit and nut laddu. You also have the option of sipping on sweet lassi made out of curd and jaggery.
Priced between Rs. 40 and Rs. 60, these desserts are available for delivery both during lunch and dinner times. Call 9551569911 or 9551569933 for details.