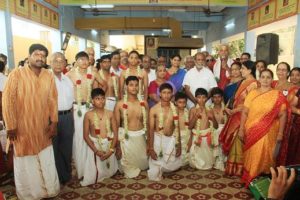 An upanayanam is believed to be the rite of passage for the start of a formal education. And that is probably why the 11 boys who gathered on May 29 at Sankara Madam, Mylapore to participate in their upanayanam ceremony were elated. These young, economically challenged boys never thought it could happen to them.
This decade old annual event was made possible by donors and was organised by the office bearers of the Mylapore unit of Tamizhnadu Brahmin Association (Regd). The boys were accompanied by their friends and relatives, more than 400 of them. All of them were treated to a sumptuous lunch after the ceremony.
Mylapore MLA R. Nataraj was the special invitee and Pammal S. Ramakrishnan, the state president of the association and Lalitha Subramanyam, secretary of the women's wing were the chief guests.